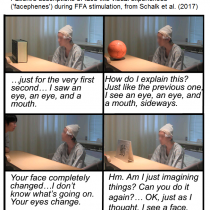 Saturday, November 4, 2017
Dr. Schalk and his colleagues conducted the first human study to show how fusiform face area stimulation affects the perception of non-face objects. The subject described seeing imaginary faces superimposed on real-world objects.
Other articles from Discover Magazine

The Army's Bold Plan to Turn Soldiers Into Telepaths
Wednesday, April 13, 2011
This 9-page article in Discover Magazine prominently features our work towards mental telepathy, i.e., brain-computer interfacing using imagined speech.